Actively involved in underwater and topside wildlife photography, nature conservation and scientific divulgation for more than 30 years, Andrea and Antonella Ferrari are a husband-and-wife team from Italy who have authored scores of travel and nature magazine articles and a dozen or more coffee-table books and guidebooks about topside and marine life, including the ground-breaking, best selling guidebooks Reef Life, Sharks, Malaysia Diving Guide, A Diver's Guide to Reef Life, A Diver's Guide to Underwater Malaysia Macrolife and A Diver's Guide to the Art of Underwater Photography – plus many others. Andrea was the first ever to photograph properly both an Oceanic Whitetip and an Oceanic Thresher shark in the wild, and they have been were awarded the coveted World Grand Prize for the Best Book About the Sea in 2004 at the Antibes International Festival of the Underwater Image with their coffee-table volume Oceani Segreti.
They have been travelling and exploring the world's wilderness together for more than thirty years – building in the process an extensive network of exclusive relationships in the wildlife travel industry and an enviable reputation as nature and wildlife authors and photographers. They are now fully devoting themselves to the publication of their free online magazine Anima Mundi – Adventures in Wildlife Photography, available at no cost as a quarterly, 120+ page high-resolution pdf at www.animamundimag.com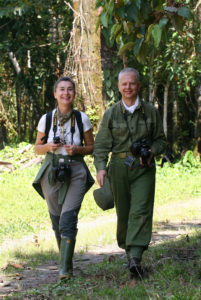 "ANIMA MUNDI – Adventures in Wildlife Photography isn't only eye candy for the armchair traveller but also offers sensible, practical information regarding local conditions, travel agencies and facilities to the wildlife and nature photographer. ANIMA MUNDI – Adventures in Wildlife Photography was created for exactly that – to freely share beauty and information with those who care, at no cost at all. Sustainable ecotourism – such as that for wildlife photography – can really help locally, and I'm firmly convinced the free global sharing of information would solve a lot of the world's problems. As I said above, education is in our opinion the single most important factor in conservation. That, and the economical involvement of local communities when a National Park or another protected area are set up. To save animals we need people to know about them and – somewhat cynically – to realize some of them are worth more to them alive than dead. Elephants, tigers, sharks, whales, dolphins, snakes, frogs – you name it…All these need a lebensraum and the money needed for it to be able to survive and flourish. Western – especially European – countries won't provide the funding to help Third World countries to preserve their remaining untouched environment, so another way must be found, and that is responsible tourism. And people – highly motivated travellers – can provide a huge chunk of it. Anima Mundi – Adventures in Wildlife Photography exists only for this specific reason – to share information, to freely disseminate and nurture a conservation mindset worldwide, at no cost whatsoever. Antonella and I actively document and promote wildlife photography travelling and ecotourism to worthy destinations, we support conservation-oriented lodges and local operators, we strongly promote research projects – from Dante Fenolio's work with Darwin's frogs in Chile to field research on European adders (we have a soft spot for the underdogs – those species most people don't usually care about). We are proud to have among our contributors respected researchers such as Dante or Piotr Naskrecki, and world-famous wildlife photographers such as Bjorn Olesen, Lucas M. Bustamante and Kurt Amsler, and being able to work with conservation organizations such as the ASA and the San Antonio and Dallas Zoos. It's a big job putting it together – I do the desk job all by myself, from the layout to the pdf – but the final product is and will always be completely free to all. And with more than 30,000 downloads per issue worldwide, many from developing countries and from younger readers, it's working. We are sharing the beauty of nature, of the wilderness, of rare and endangered animals large and small with all our readers – at no cost".